SHINE (Serving Health Insurance Needs of Elders)
---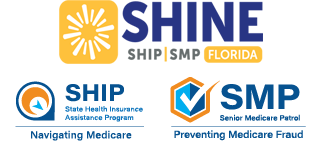 This free program is offered by the Florida Department of Elder Affairs and the Alliance for Aging. Specially trained volunteers in Miami-Dade and Monroe counties can assist you with your Medicare, Medicaid and health insurance questions by providing one-on-one counseling and information. SHINE services are free, unbiased and confidential.
To find out more information about this program, please contact the Alliance for Aging:
English: 305-670-6500, extension 11256 | Español: 305-670-6500, extension 11276
Click here to email us your question about SHINE.
The link to the Florida SHINE (called SHIP in other states) website is www.floridashine.org.